SCHOOL RULES AND EXPECTATIONS MATRIX: BULLYING BEHAVIOR
Bullying Definition:
*Student delivers disrespectful messages (verbal or gestural) to another person that includes threats and intimidation, obscene gestures, pictures, or written notes. Disrespectful messages include negative comments based on race, religion, gender, age, and/or national origin, sustained or intense verbal attacks based on ethnic origin, disabilities or other persona matters.
*Bulling is harm intending behavior or a verbal and/or physical character that is typically both unprovoked and repeated.
*Bullying is about power being used by a person over someone who has less power.
*Bullying behavior is maintained by peer attention.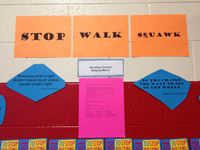 Bully Proofing: STOP, WALK, AND SQUAWK



STOP

Tell the bully to STOP.

If you receive a "stop" message, "stop".

If you see someone else in a disrespectful situation- use STOP



WALK

After using stop, walk away.

If you are helping another person, walk them away from the situation.



SQUAWK

Lastly if the stop message does not work, tell and adult.
Be Respectful
Be Responsible
Be Ready

*Use kind words




*Avoid put downs




*Positive comments only




*Use appropriate manners




*Remind others of the 3 R's




*Be firm but polite

*Avoid retaliation




*Take a stand




*Know when to walk away




*Stop behavior when asked the first time




*Listen to request

*Have a plan




*Take action




*Remember STOP, WALK AND SQUAWK




*Learn new ways to act and treat others.